Some Veterans chained themselves to the White House fence, in mute protest against president Obama's two-faced policy - his words in favour of repealing DADT - "Don't Ask, Don't Tell" that persecutes gays in the military - and his actions doing exactly the opposite, blocking all congressional attempts to overturn it until after the November elections, when they'll be no longer able to do so.

In doing so, they committed two separate crimes. One against "public order", the other various violations of the Universal Military Code of Justice, which states that it is illegal to support a cause while in uniform. Actually, it says "partisan cause", so there's some wiggle-room there.

Lt Choi is in particular danger. He's not been discharged (yet), but this is his second offence. Unless he's physically restrained, there will be a third, a fourth, as many as it takes.

PO Sandeen is my friend. She's also in an even greater danger. As a veteran disabled by her service, she's nominally still in the armed forces as a reservist, and dependant on her pension as her only source of income. Worse, trans women who are arrested - no need for niceties like charges, trials or convictions - often face assault, rape and murder while on remand. They will usually either be locked in a punishment cell, or put in amongst the general male population as playthings.

The thing is... that Trans people would be continued to be discharged from the US Armed Forces even if DADT is repealed. She's acting out of principle, to make her nation one worth fighting for, and risking her life in the process.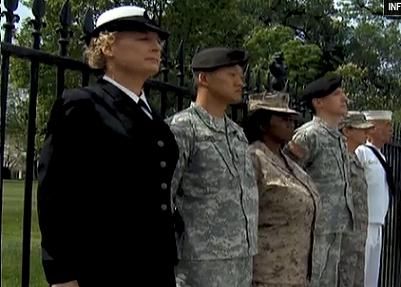 Their Commander in Chief is unhappy with them.
The arrests were deemed a matter of "National Security" so filming it was prohibited. Even though that meant closing a public park, and over the press's objections.
Some footage was taken from within the white house grounds anyway.
Biographies of the protestors (from Pams House Blend)

Lt. Dan Choi

served as an infantry officer with the United States Army in Iraq in 2006-2007. Choi graduated from the United States Military Academy at West Point and is fluent in Arabic. In June 2008, he transferred from active duty Army to the New York National Guard. After coming out on The Rachel Maddow Show in March 2009, he was notified that the Army had begun discharge proceedings against him. Choi is a founding member of KnightsOut, an organization of West Point alumni that advocates for the rights of gays and lesbians to serve openly in the military, and he speaks frequently in support of rights for LGBT members of the military.



Capt. Jim Pietrangelo II

, a former infantryman and lawyer originally from Ohio, served in the United States Army until he was discharged in 2004 under the Don't Ask, Don't Tell policy. Pietrangelo fought in Iraq in 1991 as an infantryman and returned as a JAG officer for the second Iraq War. As he was readying for a third combat tour, he was honorably discharged for declaring he is gay. Pietrangelo sued the government, charging that the policy is unconstitutional. He appealed to the Supreme Court, but in June 2009, the Supreme Court rejected the case and refused to intervene, at the request of the Obama Administration.



Petty Officer Larry Whitt

was born in Barnwell, South Carolina, and grew up in Florida. Fulfilling a lifelong goal, Whitt joined the Navy after high school and served for 12 years. He received the Outstanding Sailor Award aboard the USS Compass Island, was a Sailor of the Month aboard the USS Caloosahatchee, and retired as a Petty Officer First Class. He was stationed with the Office of the Joint Chiefs of Staff, Pentagon, and received a Joint Service Commendation Medal, two Good Conduct Medals, and a Navy Expeditionary Medal. Whitt was honorably discharged in October 1982, after he requested discharge for fear of being turned in for being gay. Currently, he is the Color Guard Coordinator for the Florida Gold Coast Chapter of American Veterans for Equal Rights in Ft. Lauderdale.



Petty Officer Autumn Sandeen

was born in Northridge, California and raised in Los Angeles's San Fernando Valley. Sandeen joined the United States Navy in 1980 as a Fire Controlman. She served on two Guided Missile Fast Frigates as a Mark 92 Fire Control System technician, and one Guided Missile Fast Frigate as a Mark 15 Close-In Weapons System technician. Her last ship was the Third Fleet Command Ship, the USS Coronado, where she served as a Mark 15 Close-In Weapons System technician from 1996 to 2000. She retired after 20 years as a Fire Controlman First Class. At the end of 1999 and beginning of 2000, Sandeen was sexually harassed by a subordinate and Executive Officer for being perceived as an effeminate gay male. After retiring from the U.S. Navy, she was awarded a Veteran's Administration Service Connected Disability rating. She began transitioning as a male-to-female transsexual on February 6, 2003. As a transgender activist, she has worked with many transgender advocacy organizations. She is currently the transgender chair of DOD FedGlobe, and she writes for the blog Pam's House Blend.

Cadet Mara Boyd, originally from and currently residing in Ann Arbor, Michigan, completed three years in the Air Force ROTC program at the University of Colorado at Boulder and graduated in the top ten percent of her basic training class before she came out as a lesbian to her commander in the fall of 2002 and was honorably discharged under the Don't Ask, Don't Tell policy in June 2003. Before she came out, Boyd held the position in her cadet detachment of Cadet Captain, Character Development Officer, having been nominated by the officer cadre and cadet corps to handle the character development and moral guidance of the entire detachment. Boyd's ROTC scholarship, which had paid for two years of nonresident tuition, was revoked upon her discharge, and the government demanded that she repay her scholarships and book stipends. Boyd ended up with $30,000 of tuition bills to pay. Boyd returned to UC Boulder and completed her degree, but she is still paying back the scholarship debt.

Corporal Evelyn Thomas, who was born in Los Angeles and grew up in Texas, joined the Army National Guard and then the U.S. Marine Corps. She served at Camp Pendleton for four years until another Marine found a letter in her locker about her relationship with a woman. She was then honorably discharged in 1991. In October 2009, Thomas founded a ministry for gays in the military who fear they may be discharged for speaking openly to base chaplains about their sexuality. The Sanctuary Project Veterans is a ministry of Pilgrim United Church of Christ in Carlsbad, CA, and it provides a safe haven, support, legal advice, and services for soldiers harassed due to the Don't Ask Don't Tell policy.

Autumn is my friend. I can do nothing to protect her, and she went into this fully realising the likely consequences - and the substantial risk of the less-likely ones. I tell myself that I mustn't worry too much, that the odds are pretty good that nothing untoward will happen. Then I remember incidents like this one:


From lezgetreal:
The vote to find McRae guilty was eleven to one, but at 2pm today, the trial was declared a mistrial after the jury let the judge know that they were deadlocked.

The conviction of McRae may have been hampered by the fact that his victim, Duanna Johnson, was murdered in November 2008. McRae's beating of her took place in February of that year. At last known, Johnson's murder has never been solved. She was one of a number of transpeople murdered in Memphis at the end of 2008 and early 2009.
Bad things happen to people like her when arrested. People like Autumn. People like me.
So the next time someone congratulates me for my efforts - I wish they'd give the credit to a real heroine like Autumn. If she's still alive. She probably is. Almost certainly. Even though more trans women have died in Australia awaiting trial than Australian soldiers have been killed in Iraq.