I've just had a paper accepted for
ALIFE-XII
the 12th International Conference on the Synthesis and Simulation of Living Systems.
So I'll be presenting a short paper and poster at
GECCO 2010
, the Genetic and Evolutionary Computation Conference in Portland, Oregon in July, and then off to Odense, Denmark in August.
Note to self: Repeat after me...
I must not evolve SKYNET. I must not evolve SKYNET. I must not evolve SKYNET....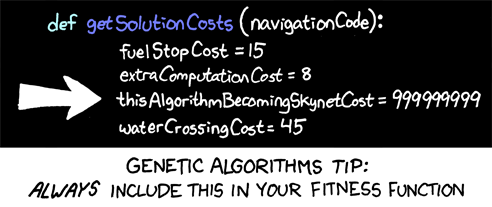 I have to be honest, and say that it sounds a lot more impressive than it actually is. But it's impressive enough. Both GECCO and ALIFE are fairly highly rated conferences.
Now, the hard part. Trying to get the money to pay for the trip. Funding's been approved from the Vice-Chancellor's fund for the Portland conference, but they don't normally pay for two international conferences in the course of a PhD, let alone two so close together. Still, if I'm going to go into Academe, getting funding is something I'm going to have to do. So call this an impromptu exam.
Hmmm... how to celebrate... I think sharing some sparkling shiraz and Lindt 99% Cocoa chocolate with the other PhD students and my co-author has a certain cachet..