Why I don't like Wikileaks.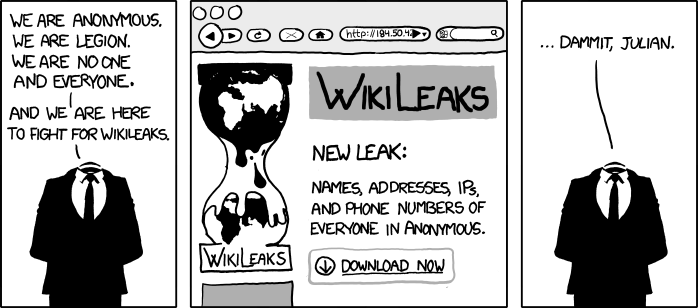 The hypocrisy. Privacy is for them, not others.
And this is why I really, really, REALLY don't like the extra-judicial persecution of their founder (who I find an unpleasant man - but that's beside the point).
Naomi Wolf's article on Huffpo
:
How do I know that Interpol, Britain and Sweden's treatment of Julian Assange is a form of theater? Because I know what happens in rape accusations against men that don't involve the embarrassing of powerful governments.

WikiLeaks founder Julian Assange is in solitary confinement in Wandsworth prison in advance of questioning on state charges of sexual molestation. Lots of people have opinions about the charges. But I increasingly believe that only those of us who have spent years working with rape and sexual assault survivors worldwide, and know the standard legal response to sex crime accusations, fully understand what a travesty this situation is against those who have to live through how sex crime charges are ordinarily handled -- and what a deep, even nauseating insult this situation is to survivors of rape and sexual assault worldwide.

Here is what I mean: men are pretty much never treated the way Assange is being treated in the face of sex crime charges.

I started working as a counselor in a UK center for victims of sexual assault in my mid-twenties. I also worked as a counselor in a battered women's shelter in the US, where sexual violence was often part of the pattern of abuse. I have since spent two decades traveling the world reporting on and interviewing survivors of sexual assault, and their advocates, in countries as diverse as Sierra Leone and Morocco, Norway and Holland, Israel and Jordan and the Occupied Territories, Bosnia and Croatia, Britain, Ireland and the united States.
...
In the Western countries such as Britain and Sweden, who are uniting to hold Assange without bail, if you actually interviewed women working in rape crisis centers, you will hear this: it is desperately hard to get a conviction for a sex crime, or even a serious hearing. Workers in rape crisis centers in the UK and Sweden will tell you that they have deep backlogs of women raped for years by fathers or stepfathers -- who can't get justice. Women raped by groups of young men who have been drinking, and thrown out of the backs of cars, or abandoned after a gang-rape in an alley -- who can't get justice. Women raped by acquaintances who can't get a serious hearing.
...
In other words: Never in twenty-three years of reporting on and supporting victims of sexual assault around the world have I ever heard of a case of a man sought by two nations, and held in solitary confinement without bail in advance of being questioned -- for any alleged rape, even the most brutal or easily proven. In terms of a case involving the kinds of ambiguities and complexities of the alleged victims' complaints -- sex that began consensually that allegedly became non-consensual when dispute arose around a condom -- please find me, anywhere in the world, another man in prison today without bail on charges of anything comparable.
One of the greatest threats to civil liberties is selective enforcement. A complex web of laws is woven, so that no-one can possibly escape breaking at least one. Everyone's a criminal.
Then you only actually enforce the laws against a select few. Those who you wish to target, using laws most people don't even know are on the books, because in all other cases, they are only applied with reason and common-sense.