From the
AP
:
A Hamas-run television station defied Israel and the Palestinian government on Friday by continuing to air a controversial children's puppet show with a Mickey Mouse lookalike preaching resistance.

Israel and Jewish groups have slammed the Al-Aqsa programme over calls made by the copycat mouse named Farfur and by a little girl for resistance against Israel and the United States, and for its overtly Islamist message.

Complete with Islamic songs and calls for cities in Israel to return to Palestine, Friday's episode apparently sought to prepare children for their end-of-year examinations -- with Farfur being told that cheating is forbidden.

Asked why by an Al-Aqsa television reporter, he looked left and right to see what his friends were writing and answered: "Because the Jews destroyed my home and I left my books and notes under the rubble."

"I'm calling on all children to read more and more to prepare for exams because the Jews don't want us to learn," Farfur then said after being told he had failed the test.
Fairly Harmless - a little antiSemitic propaganda, Judenhass straight from the schoolbooks of Nazi Germany, but not too bad, right?
Now see the video. The AFP omitted the bits about the Arabs being the Ubermenschen who would reconquer the world (they used to own it, you see), and make sure every Jew on the planet was exterminated.
"We've said more than once that becoming masters of the world requires the following : First to be happy with our Arabic language, which once upon a time ruled this world"
Please, don't just read the AFP whitewash of this Nazism. Look at the original sources. Read the
Hamas Charter
. Look at what they're teaching their kids - to be human bombs so as to "commit martyrdom".
Just Look - at
Hamas
a Lebanese Falangist party, at Hezbollah, and the Nazional Sozialistiche Deutsche Arbeiter Partei (NAZIs).
This one is of Hamas (and thanks to an eagle-eyed but anonymous reader for spotting my error in the above)
And this one shows the origins of the whole thing.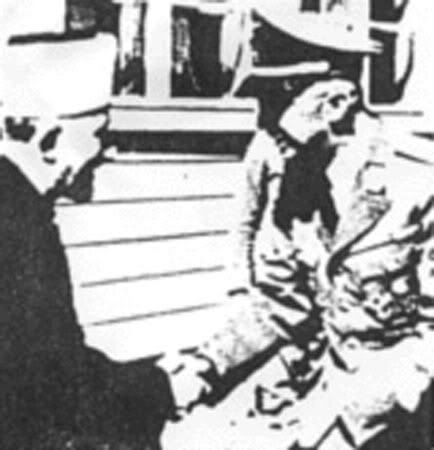 (Hamas Guiding Light Haj Amin Al-Husseini shaking hands with Heinrich Himmler)
Do your Homework.